Turtle Diary
From Nitbar
These are notes for Turtle Diary (1975), Russell Hoban's third non-children's novel. It's a bittersweet philosophical semi-comic non-romance about two desperately lonely middle-aged Londoners who connect over a mutual obsession with stealing sea turtles from the zoo and returning them to the ocean.
The novel was adapted into a 1985 film written by Harold Pinter and directed by John Irvin. Hoban disliked the movie (which omitted basically everything that was conveyed in the book's interior monologues), calling it "feeble and flabby";[1] a radio adaptation[2] in 2003 was more positively received by the author.[3]
There are 53 chapters, with William narrating the odd-numbered chapters and Neaera the even-numbered ones. The notes below refer to the 2013 edition from New York Review Books; Turtle Diary was also reprinted as part of the Russell Hoban Omnibus from Indiana University Press (1999).
Major characters
William G., a bookstore clerk, several years after a divorce.
Neaera H., a successful writer and illustrator of children's books.
George Fairbairn, aquarium keeper at the London Zoo.
Harriet, one of William's co-workers.
Mr. Sandor and Miss Neap, William's bedsit neighbors.
Chapter 1
One wanted to see SPURS, ARSENAL
British football teams with extremely partisan fan followings, sometimes violently so.
Chapter 2
Great Water-Beetle, Dysticus marginalis
Also known as the great diving beetle. (A Smithsonian video with footage of it swimming)
Laura Ashley dresses
A Welsh fashion designer whose floral-print women's wear would have connoted (in the mid-1970s at least) a stylish kind of outdoorsy nostalgia.[4]
Chapter 3
had a stall on the Portobello Road
A popular outdoor antiques market.[5]
Chapter 4
John Gould ... eagle owl
This lithograph appeared in Gould's book The Birds of Great Britain (1873) and can be seen in the Louisiana Digital Library's collection of prints from that volume. Gould's bird illustrations are widely available from commercial print sellers, and one vendor, apparently less sensitive than Neaera to the alarming effect of this image, described the eagle owl as "a striking addition to any room in the home."[6]
Chapter 6
Jimson Crow ... always stealing things
US readers may be startled to see a "Jim Crow" reference like this casually proposed as a joke for a picture book in England, and it is basically as bad as it sounds but for a slightly different reason. Before the name came to refer to segregation laws in the US, Jim Crow was a minstrel-show clown character—a carefree but untrustworthy Black stereotype. That character, and his theme song "Jump Jim Crow", became internationally known enough that Punch and Judy puppeteers in the UK borrowed the name and applied it to an existing (and equally racist) stock character who had previously been nameless.[7] Up through the 1930s "Jim Crow" continued to be used in Punch shows, so someone of Neaera's generation might think of him as an old-timey reference from her own country, casually ignoring the offensiveness not unlike how a chain restaurant in the US continued to use the name "Sambo's" well into the '70s.
a relationship like that of the figures on Keats's Grecian urn
The guy on the urn can never reach his beloved, since they're painted on an urn, but at least they'll be eternally young and beautiful. ("Ode on a Grecian Urn")
Chapter 7
Mr Sandor ... Miss Neap
It's never established where Sandor is from, but Sándor is a common name in Hungary and he does later say that he speaks Hungarian. Hoban would likely have been aware of the pianist György Sándor, who, before becoming internationally known to post-war classical music aficionados, happened to have served in the US Army Signal Corps during the same time that Hoban did.
Neap, besides being the name of a small Scottish town, is the name of the twice-monthly time when high tides and low tides are the least different from each other.
Procurer to the King by Fallopia Bothways
Turtle Diary being a relatively realistic novel, it's rare for Hoban to indulge his penchant for extravagant comic names (another exception is in chapter 24, when we hear about a publishing house whose partners are "Pryntward Rush & Hope"). "Fallopia Bothways" at first glance seems like a blunt joke on the idea that a writer of lurid historical romances wanting to sound both hyper-womanly and a bit racy would use a name that combines reproductive anatomy with a wink-wink reference to bisexuality, but would end up with something that's both unsexy and kind of awkward to pronounce. But there's another very different "both ways" reference in chapter 20 that complicates this.
The Underground trains are above ground where the District Line passes the common ... on the left they converge towards Parsons Green and Putney Bridge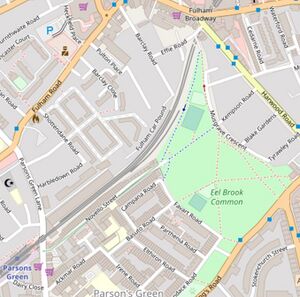 William gives us enough detail here and later in the book to make it clear that he lives in
Fulham
, and that "the common" is
Eel Brook Common
, a park near the Fulham Broadway tube station. Hoban lived on a street adjoining Eel Brook Common for many years
[8]
and described the Fulham area in several of his novels; the view that William describes is basically what his would have been. There is less detail about Neaera's neighborhood so I'm not sure where she might live.
Chapter 8
Polperro
A Cornish seaside town with a population of about 1,500. One travel guide claims that the touristy gift shops do not quite manage to spoil it.[9]
Chapter 10
"The Windhover"
Regardless of whether Neaera is fair to call this "a wet poem and twittish", it does seem fair to say it's got a few mannered words. (Full text)
Basho's frog
Matsuo Bashō (1644-1694) wrote in several poetic forms but is best known for haiku, including the one about a frog which one poet described as "almost definitely the most famous haiku ever composed on this planet."[10]
Thomas Bewick diligently followed the patterns of light
Bewick (1753-1828), like Gould, is best known now for his illustrations of animals, birds in particular. (Many are reproduced online by The Bewick Society)
John Clare looked carefully at hedgerows
Clare (1793-1864) wrote many poems focusing on nature and rural life.[11]
Ella Wheeler Wilcox implacably persisted
This is probably a dry backhanded compliment, as Wilcox (1850-1919)—extremely popular in her day, now best known for epigrams like "Laugh and the world laughs with you"—wrote hundreds of poems, nearly all of which were in the same meter and in four-line stanzas.
a round-the-world singlehanded sailing race in which one of the yachtsmen stopped
Neaera is talking about Donald Crowhurst; the story didn't end well.
Chapter 12
The eyes of herring gulls ... have no pity even for the bird they're in
An image that has recurred in Hoban's work: in Riddley Walker, Riddley describes a gull's eyes as "so fearce they cudnt even be sorry for the naminal they wer in."
The Man in the Zoo
The 1924 New York Times review of this novella called it "delightful" and described its theme like so: "a man lives side by side with lower animals, and appears not wholly to advantage."[12]
The turtle in Lear's Yonghy-Bonghy-Bò looks like a hawksbill in the drawing
"The Courtship of the Yonghy-Bonghy-Bò" has been illustrated many times, but Neaera is probably talking about Lear's own drawings for it. (Full text with drawings)
Chapter 13
the sort of situation that would be ever so charming and warmly human in a film with Peter Ustinov and Maggie Smith
I haven't seen any movie with Ustinov and Smith together so I'm not sure if Hoban was thinking of a particular one, or just sort of negatively fan-casting an imaginary disappointing Turtle Diary adaptation. They did co-star in the crime caper Hot Millions (1968).
Chapter 14
Alas! What boots it with incessant care
From Milton's "Lycidas", using "Neaera" as an example of a generic nymph. There were at least a dozen unrelated mythological characters by that name; no way to know which one either Milton or our narrator's father had in mind.
Chapter 15
An important witness in the current American government scandal
Although Turtle Diary was published in 1975, it's likely that Hoban was either writing this earlier and referring to the Watergate affair, or just assuming that Watergate-type events would be a permanent fixture of US politics from then on. I'm not sure the specific quote William describes is real, but I'm guessing it's meant to be G. Gordon Liddy; it would be in character with Liddy's grandiosity and homophobia.
Chapter 16
Caister men never turn back
Caister became famous for the tenacity of its lifeboat crews when nine rescue workers were lost for a rescue that had only two survivors.
opened A.E. Housman at random
From the 36th poem in "A Shropshire Lad" (1896). (Full text)
He always kipped after lunch
For US readers: kip is British for a nap.
Chapter 17
The Swimmer, with Burt Lancaster
A 1968 film from a John Cheever story of the same name. (Roger Ebert's review)
Chapter 20
The Duchess of Malfi ... coffin, cords, and a bell
A characteristically violent 17th-century revenge tragedy by John Webster. The cords are used to execute the Duchess by strangulation. (Full text)
They go on such strange geometrical hinges / You may open them both ways
Besides being an evocative line in itself, this quote from Webster puts one of Hoban's earlier jokes in a different light: "Fallopia Bothways"'s last name, in the context of steamy romance novels, was obviously a reference to "swinging both ways" but in this passage the Duchess is talking about the doors between this world and the next, saying that not only are they many in number (as there are many ways to die) but they might have less straightforward rules than we assume.
While Turtle Diary takes place in a basically realistic world, the many synchronicities between William's and Neaera's thoughts, and the ways that references often show up in one context early on and turn out to have been foreshadowing or echoing-in-reverse a later event, suggest that it's not entirely separate from the world of Hoban's earlier comic fantasy Kleinzeit, in which an idea or a phrase can take on a life of its own and pass through different people's lives without regard for cause and effect.
the shark's mouth ... a place of rest, they call them requin
This bilingual pun probably isn't etymologically accurate. Shark in French is "requin", which sounds a little like "requiem", and "requiem" comes from "to rest" in Latin. But it's not clear that the words really are related; "requin" is thought to be from a different word that means showing your teeth.
Chapter 23
her father is an MP
Member of Parliament.
The place was in St. John's Wood
A wealthy London neighborhood, best known outside England as the home of the heiress in the Rolling Stones song "Play with Fire".
Chapter 24
the astronauts on Skylab-2 have got two spiders with them
It was Skylab-3[13] (although the numbers don't refer to different space stations, just a series of missions on the same station), and this is more evidence (like the Watergate reference) that either a good deal of the novel was written in 1973 or it takes place then.
Chapter 25
The place was in Maida Vale
A residential neighborhood next to St. John's Wood, but not as rich. A large BBC studio facility is there.
Chapter 26
King Kong was playing at the Chelsea Odeon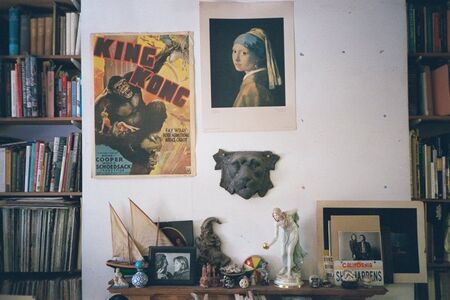 The 1933
King Kong
loomed large in Hoban's imagination, with Kong references appearing in several of his other works, most notably the libretto for the opera
The Second Mrs. Kong
—an allegorical fantasy in which the woman in Vermeer's "Girl with Pearl Earring" meets "the idea of Kong". Both of them can be seen here in Hoban's workspace.
a reversal of the Schöne Müllerin theme
The Franz Schubert/Wilhelm Müller song cycle "The Fair Maid of the Mill".
those chains are made of chrome steel
Here is the full scene of Kong's stage debut, although you should really just watch the whole movie right now. (There are probably thousands of essays on King Kong; here's a short one I wrote.)
Chapter 27
Square plate in the pavement, K257 on it
As it's now possible to find online references for manhole covers, I was curious as to whether a marking like this would really exist and why. Unfortunately the answer is unclear. There are many covers and plates that have somewhat similar letter/number codes, such as B125—but those refer to a specific list of "load ratings" (that is, how much weight is the cover safe for), and "K" isn't used in that system. It may be that Hoban saw something like B125, assumed that other letters would probably be used too, and followed that train of thought to the Mozart joke here.
go ahead, play Mozart
In classical music, "K" numbers from the Köchel catalogue are a standard way to reference Mozart's works. Köchel 257, the Credo Mass in C major (1776), lends itself particularly well (even though William says he's never heard it) to the idea that an object might emit a specific Mozart piece when stepped on: due to the repetitions of "cre-do, cre-do" in the third movement, a one- or two-bar phrase would be enough for anyone who's heard the mass to recognize it.
Lineaments of satisfied desire
A slight misquote from Blake's "Several Questions Answered" (c. 1793). (Full text)
Chapter 28
It was two people I'd never seen before
Since we find out two paragraphs later in chapter 29 that William and Harriet did in fact go to "a series of early music recitals", the simplest explanation is that the conversation Neaera just overheard about Renaissance madrigals was the two of them, and that they left without seeing her and were replaced by two other people before she got around to looking. But in a novel where remarks and events are fairly often echoed in unrelated contexts without the narrators being aware of it (except for instance in chapter 42), it's not impossible that Neaera has associated two strangers with William and Harriet because she somehow unconsciously knows she's in a book where a similar thing is happening in their storyline.
Chapter 31
a Ford Transit 90, 18 Cwt
"Cwt" here is "hundredweight", 100 pounds (or in some contexts 112 pounds), used as a measure of a vehicle's hauling capacity. Ford Transit has been a popular line of vans and similar vehicles for many years, so Hoban may have simply picked it as a widely available option, but it's appropriate for a turtle heist since it was at one point allegedly the getaway vehicle used in "95 percent of bank raids."[14] The one being rented here would not have the streamlined look of today's Transits; pre-1978 models had boxy snouts that emphasized how (as William notices) they were on the wide side.
Chapter 32
We stay on the M4 until after Swindon
As shown here. It's a more roundabout route than a computer would recommend now: supposedly you could save about an hour by taking the A303 straight through Basingstoke and Yeovil instead. It could be that this is just the way that William knows best, or that he wants to avoid what sounds like
unpredictable traffic
.
three plastrons supine on a field Ford Transit
A joke on English heraldic terminology which I will now explain to death. Standard descriptions (blazons) of coats-of-arms begin with the main emblem or "charge", which if it's an animal is followed by an "attitude" such as "rampant" (up with paws raised) or "dormant" (sleeping with head on paws); "supine" isn't a position that would ever be used. A plastron sounds like a heraldic design element (such as "escutcheon") and in fact can mean a piece of armor, but here it's just the belly part of a turtle shell. Heraldic grammar puts the color or pattern last, so here "Ford Transit" is being used in place of a phrase like "Chequy gules and argent" to describe the look of the background (field).
A coat of arms would normally have a motto, and Neaera has chosen one attributed to the Roman general Pompey: "To sail is necessary, to live is not."
Chapter 33
the spirit of Tregeagle
Jan Tregeagle was a real 18-century person in Cornwall who became the subject of local legends about his evilness. Having to weave ropes of sand was actually a good outcome for him, because it kept his spirit out of hell as long as he could keep busy at it.
Chapter 34
the street that led to Jonathan Couch's house
Couch was a 19th-century naturalist who was one of the more famous residents of Polperro.
Chapter 35
Adamant, said the urinal. There was a device like the Order of the Garter but with a lion on top. Something that looked like an owl's face in the middle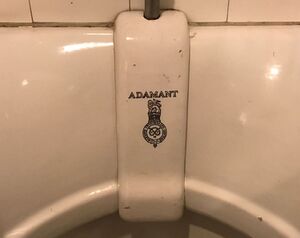 Adamant brand urinals did at one point use a logo more or less as described.
Chapter 36
coachman who took Pinocchio to the Land of Boobies
The Land of Boobies (or "Toyland", depending on the translation) is the alleged utopia that Pinocchio's friends convince him to travel to, where you can do whatever you want and the weekend lasts all week. Of course, it's a scam.
Chapter 38
a pelmet lying face-down on the floor
A pelmet is a small facade at the top of a window, to conceal the curtain rod or the top of the frame (as is described in a significant passage in chapter 49). You would normally never see the back of it.
Chapter 41
an old German film ... Harry Bauer was in it
This would be Symphony of a Life (1943), Baur's only non-French film (Bauer is a typo)—also his last film, and possibly the indirect cause of his death. Baur was a star in France but after the Nazi invasion he was blacklisted by the collaborationists, and (either as a desperate career move or against his will, it's unclear) ended up joining the German film industry instead, traveling to Germany to make this. He finished the movie but was then arrested by the Gestapo, and died shortly after his release from prison, either due to lingering effects of his ordeal or by foul play. It's possible that Hoban didn't know this story; I feel like if he had, he wouldn't have been able to resist working it in somehow.
Chapter 42
How did he know that I knew where Tortuguero was?
This is one of the few places in the novel where the apparent synchronicity of a repeated idea is actually noticed by one of the narrators—except it's been set up in a way that, probably deliberately, highlights the mundane ability of our minds to manufacture these out of nothing. The hand of the author is certainly apparent at other points where William and Neaera have arrived at matching thoughts with no prompting, encouraging us to feel that they're unusually tuned-in to the same frequency. Here, however, there's no reason—besides her anxious state at the moment—for Neaera to think there's anything very odd about a stranger mentioning Tortuguero: it's Spanish for "turtle place", it's also a real place that the shell could plausibly be from, a person from the Caribbean would be particularly likely to know about it, and he's talking to someone who's obviously looking at the same tortoise shell he's looking at. He doesn't have to be aware that she knows the name, or to care, since it's not unusual for people to mention things that have come to mind regardless of whether other people are familiar with those things—in fact our two narrators both do so all the time, it's a major feature of the book. But being certain that someone else's remark is really about your state of mind is also common and also a major feature of the book.
Chapter 43
Thermopylae
William probably means the Battle of Thermopylae (480 BCE), in which a vastly outnumbered Greek alliance held off the Persian army for a while—to great retrospective acclaim, but without affecting the outcome much.
as if I'd come back from the Lakes and the Torrible Zone and the hills of the Chankly Bore
From another Edward Lear poem, "The Jumblies." When the Jumblies return from those places after 20 years (a reckless trip during which they told themselves "we never can think we were rash or wrong"), everyone remarks on "How tall they've grown"; among the things they acquired there are "an Owl ... and a hive of silvery Bees." (Full text)
Chapter 44
Lilly's The Mind of the Dolphin
John Lilly was a multidisciplinary scientist who became best known in the 1950s and '60s, especially in counterculture circles, for his experiments with sensory deprivation and psychedelics as well as his studies of dolphin communication. By the '70s he was no longer a researcher and had drifted into New Age metaphysics. The Mind of the Dolphin (1967) was somewhere in between: it was based on detailed observation of dolphins, and bluntly dismissive of ideas about psychic phenomena (basically on the grounds that they weren't practical or necessary), but Lilly was up-front about his belief that the possibility of talking with dolphins touched on crucial requirements for human mental and spiritual health.
The many points of contact between this book and Turtle Diary, in terms of the narrators' problems and philosophical concerns, suggest that to Hoban this was not just a casual zoology-oriented reference. Here's one passage that's particularly apt (to Neaera's previous chapter for instance):[15]
Thus our problem in our own species is achieving a basic communication with our fellow men and fellow women .... However, we must know ourselves in order to be able to communicate. We must know the kinds of things that we project into other people "as if" they are communicating them to us but are really not so doing.
a Dale Carnegie poster
Carnegie was a motivational speaker and self-help writer best known for How to Win Friends and Influence People.
Chapter 47
The van and the petrol had come to £26.56
About £278 or US$380 in 2021 currency.
Chapter 48
the driver was sitting in the back seat playing a muted trumpet ... Muskrat Ramble
A Dixieland standard first recorded by Louis Armstrong. A taxi driver who practices trumpet in his down time features prominently in the Hoban/Quentin Blake children's book The Marzipan Pig (1986).
Chapter 49
all the Belisha beacons were bagged in black plastic
Belisha beacons are lamps at pedestrian crossings.
her Postal Savings book
Like many countries (including the US until 1966), the UK offers personal savings accounts through the Post Office.
Chapter 51
the royal arms said DIEU ET MON DROIT
"God and my right", used in the English version of the coat of arms of the UK.
the "Ely"
This item might be named after the cathedral in Cambridgeshire, an ironically high-flown reference for something "standard ... with good class fittings."
Footnotes